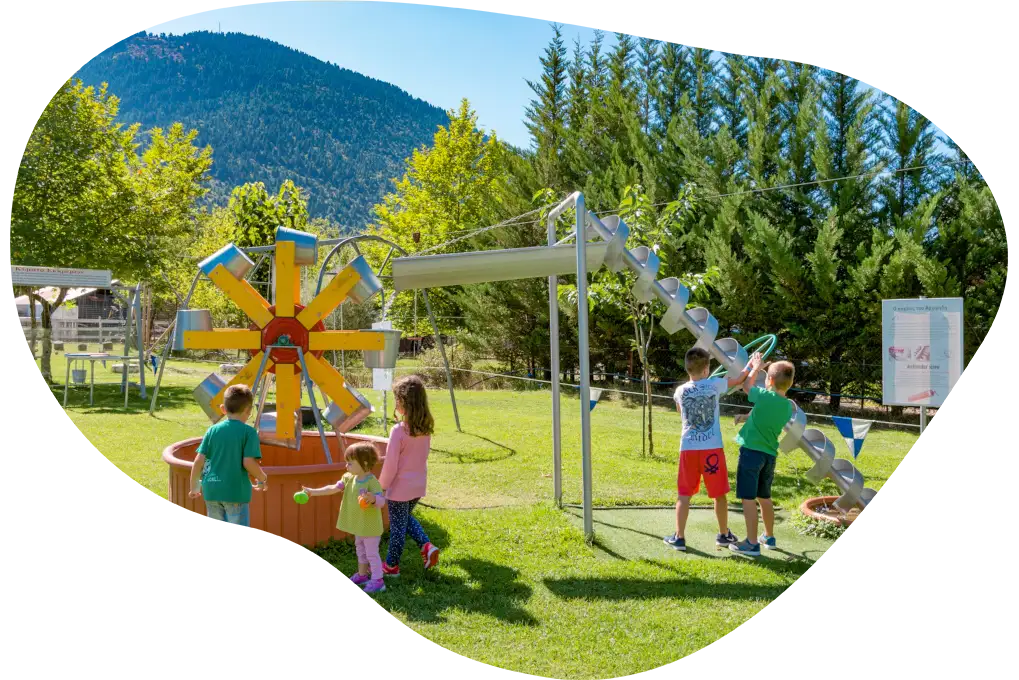 UNFORGETABLE STAY IN THE MOUNTAINS
We are focused on providing an unforgettable stay in Karpenisi, quality family moments and being the starting point of fun for all adventure and nature lovers. Our outdoor facilities are designed with safety first and foremost. 25,000 m2 of carefully designed space for all ages.
We aim to give you the tools to spend quality time with your loved ones. You won't find children parking here. Be the creator of your own adventure! 

A myriad of activities for kids & adults! Discover all the exciting adventures that await you.
the ultimate outdoor experience!
The hotel complex consists of "Ninemia"
for your stay in Karpenisi, & "The Newton Park" for your entertainment.
• Hotel facilities & activities are only available to hotel guests..
• The Newton Park is open to outside visitors, during the weekends, visitors to the park are not allowed to enter the hotel for any reason, so as to ensure absolute safety during your stay in Karpenisi with your children!

See the map of The Newton Park by clicking here:

Find the adventure that's right for you
Booking directly with us means you get:
✓ Best price guarantee! You get significantly lower prices than other channels or websites (ex Booking.com).
✓ Activities Included for freeBy booking on our website, it means that you get much more than just a stay! Staying true to our Stay & Play philosophy, we have prepared great discounted packages that include all your favorite activities!
Check out accommodation options and find what best suites your needs!
Perfect stay for family vacation
The place is absolutely perfect. The rooms are clean. Newton Park is the definition of fun & learn. The hosts are very very kind. Million ways to keep kids occupied. Perfect stay for family vacation.

Kids Ages: 4 & 6 & 8
This place defines a whole new level of kids oriented
The perfect place for families. Kids are happy, the parents are happier. This place defines a whole new level of kids oriented. Beds are comfortable, facilities are well taken care of. Adonis and his lovely wife- keep it going we already miss you both! Thanks for everything!

Kids Ages: 2 & 4
home-like atmosphere
A great place for families with children. Great location, original playground, clean rooms, friendly owners, home-like atmosphere.

Kids Ages: 1 & 2 & 9
Small area for biking if you're lans armstrong
Wi-fi so bad it didn't even reach the town 7km away. Very unhealthy beers, too cold. Small premises for cycling if you're Lans Armstrong. The grass was too wet during 3:30 to 4:14 a.m. Mr Antonis & Demy we will only give you another 45 chances to fix everything!!!

Kids Ages: 3 & 5
Perfection to the smallest detail!
Very clean and cozy room for the whole family. Perfect homemade breakfast and numerous activities for our twins (3.5yo) and us too! Really polite and helpful people, especially Antonis! We loved everything there and for sure we all want to visit Ninemia again!

Kids Ages: 3 & 6
מומלץ בחום
תודה רבה, בית ההארחה מוצניק למילים חביבות שלך. הלוואי שיכולתי לבקר אותך גם מתישהו! עד אז בריאות ואושר בביתכם! אנטוניס

Kids Ages: 4 & 7